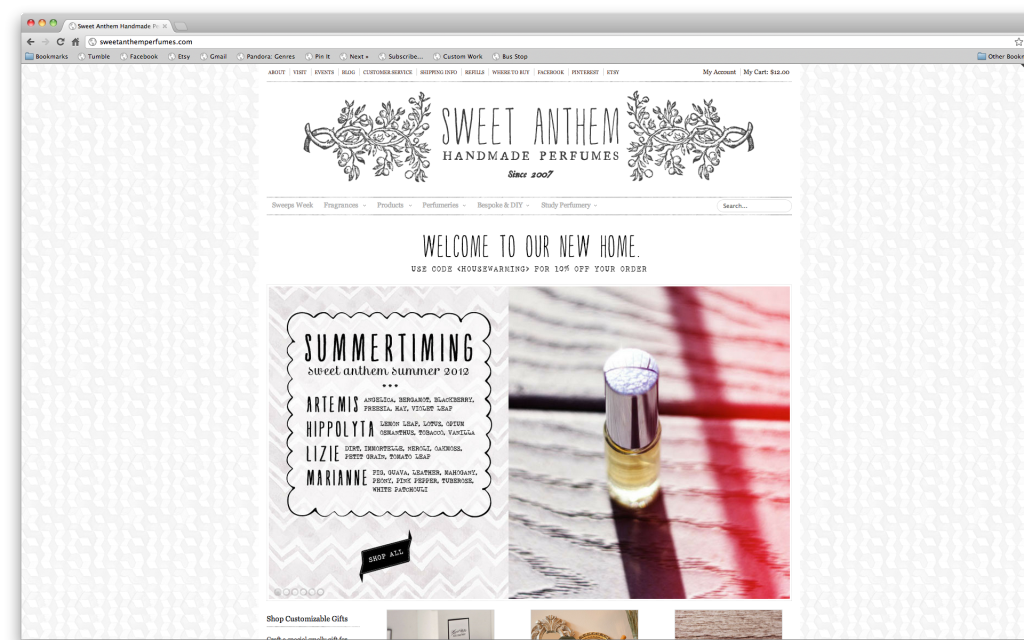 At long last! The new website has finally arrived – as many of you learned when you saw me post on my personal Twitter yesterday, because I just couldn't contain myself! I'm terribly, terribly excited, and I'll cover all the nitty gritty as how this is going to make my life easier later, but for now, I'd like to invite you to our virtual Housewarming Party!
Join us for Sweeps Week at the website and use the code "housewarming" for 10% off your order. Please note that I'm only offering samples of the Summertiming scents right now, not Vault scents, because of the limited nature of the batches. A good size to try things out though is the ever-popular solid perfume twist, and there are plenty of those available in Vault scents.
How do you enter a code, you might ask? Here's a tip from the pro.
1. Add items to your cart.
2. Go to your cart and fill out all the information for step 1.
3. Enter "housewarming" in the "discount code" section on step 2, as shown below.
And…voila! Follow the remaining prompts and you're set!
Other questions
1. Can I use the disconut code in the brick and mortar shop?
Right now, no. Sorry. You CAN use the code on the new website and pickup your order locally, but I'd like for it to be put to good use! Also, ordering online gives me advance warning and will help make sure your order is ready when you get here to West Seattle.
2. Are the "pick 3" sets available at the new website?
Yes! You can pick 3 fragrances in a variety of formats at the Customized Gift Set section. I wasn't sure what to call that one, so if you have a better name, please feel free to suggest it! :)
Enjoy, my lovelies! I'm off to get coffee before the atelier opens! If you encounter any errors or bugs, please do let me know!